Can you believe that 2010 is almost over? I can't!! It's time again for my monthly favorites! Thank God I've been feeling better lately, so I've been wearing some makeup too! :) Here are my favorites :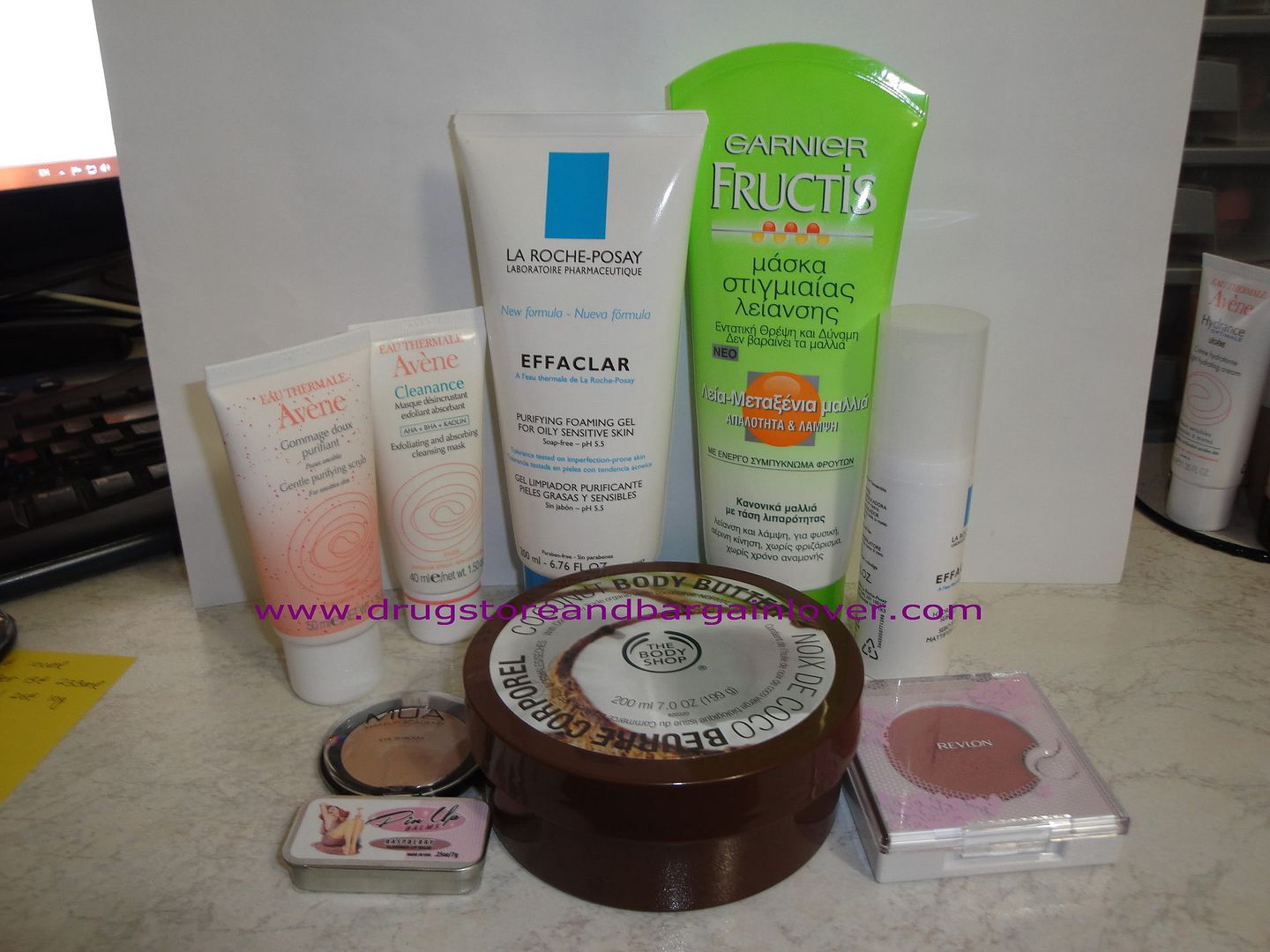 Back Row (starting from the left) :
Avene Gentle Purifying Scrub : It's a quite mild scrub that feels great on the skin! It's gentle enough, so that you can use it pretty often and I also like the way it smells! :)
Avene Cleanance Exfoliating and Absorbing Cleansing Mask : I really like this face mask ! While applying it it exfoliates my skin and then it leaves it so clean! :)
La Roche Posay Effaclar Purifying Foaming Gel : It cleans my skin without drying it out and you don't need a lot of product each time!! I love it so far!
Garnier Fructis Instant Melt-In Hair Mask : It smells great and it leaves my hair soft and shiny! It definitely works instantly, so no wait time! ;)
La Roche Posay Effaclar M Sebo-Regulating Mattifying Moisturizer : I loooove it!!! It moisturizes well, while leaving my skin matte! :) I love the pump too!
Front Row (starting from the left) :
MUA Eyeshadow in Shade 17 - Matt : Great basic eyeshadow, it matches my skintone perfectly! :)
Pin Up Lip Balm in Raspberry : I'm not a lip balm fan, but this one is nice actually, especially if you like light lip balms! :) Plus the packaging is cute! :)
The Body Shop Coconut Body Butter : Wow I love this body butter!! I use it on my legs and on my hands during the night and I wake up with baby soft skin! :) And it smells sooooo good!
Revlon Cream Blush in Rosy Glow : This has become my favorite cream blush ! The color is so pretty and the consistency is really nice, it blends very well ! :)
I forgot to include NYX Round Lipstick in Thalia in the picture! I seriously love this lipstick, it's such a pretty color! Plus it has the same name as my best friend! :) Which products did you enjoy using during October? :)